Drama Courses
Find an acting class for your kids in Overland Park KS that fits your busy schedule.
Acting classes and workshops
Build confidence in your kids
Get the drama out of your house
Give your students access to the theatre,
to build confidence on and off the stage
We partner with parents, schools and community organizations to provide access to the arts for your students.
We believe every child should have a part to play.
Hear what our classes are all about.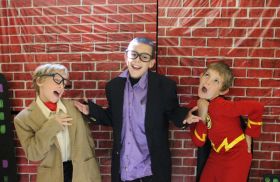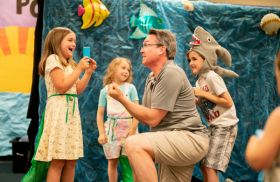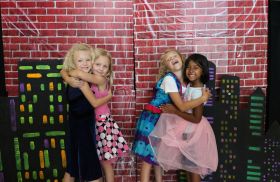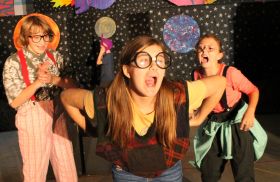 Not all drama classes are built the same
Through our acting classes with small sizes, kids get custom parts that are made to match their skill level.  With Theatre of the Imagination you won't have to deal with some of these common problems:
Your child is shy, and the class is too large for them to get help needed to shine
You're paying top dollar but your child is getting lost in the back of the stage
They may be ready for advanced acting but aren't getting lines that match their skills
It takes several seasons before your child gets a speaking part
Mr. Miles writes all the plays so he caters to every child's reading level and personality. No one ever has to audition for a part! With us everyone gets their time to shine!
Connect your students to the theatre, and grow their confidence
Drama Classes
We offer 5-week sessions, 1 night per week. These sessions run four times per year.
Classes are held at Beth Torah, after school or on weekends. Great for ages 5-12; classes will be grouped up by age. Learn More!
Drama Camps
During summer and holiday breaks, we provide week-long sessions for kids aged 5-12.
Kids enjoy games, crafts, improv, dancing, foosball, and fun activities all through the week. All kids perform in a show for parents on the Thursday night of the week-long class. Learn More!
Private Acting Coaching
Great for students or adults. We work with you one on one to help you grown in your acting journey. We help with resumes, monologues, audition preparation, talent agency guidance, and much more. Virtual or in person coaching is available.
My daughter's confidence, as well as her critical thinking and interpersonal skills, have all grown since she began taking drama class at Theatre of the Imagination. Mr. Miles is a true professional and has the patience of a saint. He expertly weaves in technical drama and video production skills with lessons related to teamwork, creativity and resiliency. We love Theatre of the Imagination!
All three of my children have been taking drama classes here since they were little. They have done an amazing job leading them through acting, singing and dancing.
My older two are 'drama queens', but Ellie, our littlest, is very shy. She watched her sisters do play after play with Mr Miles and was all smiles when she was in the audience. But she did not want to get on stage, too scary for her.
That lasted about 10 minutes into her very first class at TI. She came the first day full of stories, wonder and smiles. "I get to say all these funny lines, Mommy!".
Now she is a sophomore in High School and just got the lead in her school musical, ahead of all of the Juniors and Seniors. She is all confidence now.
To Miles and all of his wonderful staff at TI, thank you, thank you. You were instrumental in my child's self esteem.
Mr Miles, we adore you and your staff! I speak your praises often.
You are amazing at what you do! My kids may not be the best in drama, but they absolutely love it, no doubt! Thank you so much for all you do for these kiddos. Your passion to teach these kids is unmatched! Thank you thank you!
Signing up for an Acting Class is Easy

01. Sign-up online for a class!
Sign up is easy, classes are posted throughout the year.

02. Call us with any questions!
If it is your first time, we'd love to learn details about your kiddo! The more we know about your student, the easier it is to get them tapped into their first tole. We love this part!

03. Sit back with relief knowing you picked a class your kiddo will love!
You'll feel awesome knowing they'll gain confidence and have fun!